Competition Winners & Recent Demonstrations
At each demonstration Chandlers Ford Art Group members can enter a monthly competition.
The demonstrator is asked to judge the competition and a small prize is awarded. Pictures do not have to be framed.
Demonstrations 2018
July 2018 demonstration was by Judy Tate who demonstrated a lovely free painting of Alliums using soft pastels and an acrylic ink under painting.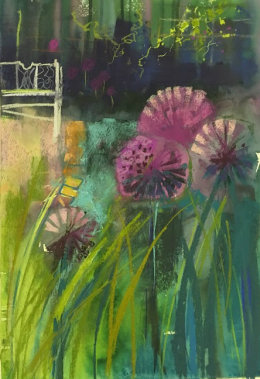 The competition theme was Still Life. Wendy Hayward was judged by Judy as the winner.
June 2018 demonstration was by Lynn Friel on preparing for an exhibition. A wonderful interactional and friendly demonstration.
The competition theme was Summer. Jocelyn Halfpenny was judged by Lynn as the winner.
April 2018 demonstration was by Ronnie Ireland. It was on the subject of Painting with an Open Mind. Ronnie did a wonderful demonstration in acrylic with big brushes of a seated woman with another figure across her lap. He painted very freely and his only thoughts were that the painting should show caring. It was very inspiring!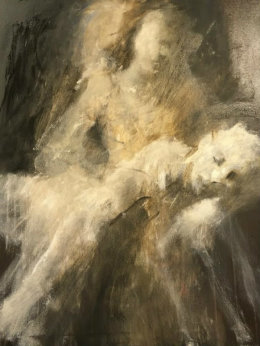 The competition theme was Street Scene. Mike Brown was judged by Ronnie as the winner.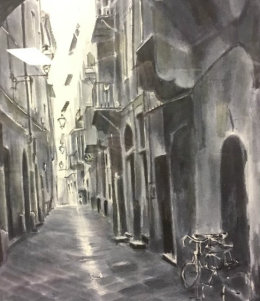 March 2018 demonstration was by Jake Winkle who did a great demonstration painting Venice in watercolour.
The competition theme was Spring. Susie James was judged by Jake as the winner.
February 2018 a very interesting discussion was by Helen Talbot. She talked about different ways to describe a subject.
The competition theme was Skyscape. Tony Eaton was judged by Helen as the winner.
January 2018 demonstration was by Lynne Davis who did a wonderful demonstration painting a sheep!
The competition theme was Landscape. Ruth Lewis was judged by Lynne as the winner.